NUTMEG SPORTS, LLC
OFFERING THE FINEST GENUINE IVORY GRIPS,
CUSTOM SERVICES,
AND ENGRAVED COLT FIREARMS AVAILABLE ANYWHERE!
It is with great sadness that we inform all of our faithful customers and friends that Jim Alaimo our beloved Father, Husband, Grandfather and founder of Nutmeg Sports has passed away.

Jim was a great man who had a wealth of knowledge and experience in the firearms industry. For over twenty years Jim has labored to make Nutmeg Sports known for quality work and service to our clients. For the past 14 years we have been working along side Jim learning more and more each day. Imparting in us that service to our clients and quality work has been the cornerstone of our business.
In the last 6 years we have taken on a bigger roll as Jim began to plan his retirement.

We would like to thank all of our friends for the well wishes and support over the past few months. The most important things to Jim were his family, friends, and his work at Nutmeg Sports. He was loved by many and will be sorely missed.

Jim, thank you for sharing with us your decades of knowledge and experience. We will continue on and make you proud.

Thanks to our customers and friends
Sincerely
Tyler and Emily Cusson

IVORY UPDATE
As of 7-31-15 the U.S. Fish and Game has put forth their proposal of a complete and total ban on all Ivory sales. At this point this ban could go into effect as early as the end of September 2015. Now we have been informed that there will be a grace period but the length of that period is not defined. Our advice is that if you have been putting off getting Ivory grips and have your heart set on that material, send in your revolvers, or call and place your orders now. We will continue to operate our business in spite of an Ivory ban, by offering alternative materials that are similar to Ivory. We have been using alternative ivory materials like giraffe bone for many of our clients. Giraffe Bone is a very close material to ivory in appearance and durability. All of us here at Nutmeg have the utmost compassion for all endangered species. It is important to know however that all of our ivory is documented and pre-ban material.
ANNOUNCEMENT!!
Please visit our new store. Just click on the store icon. This page will allow the folks that like the shopping cart method of buying to see items and instantly purchase those particular items. And for those that want to still maintain the personal touch and talk to us about a project, or grips, please call or email us...we'd love to hear from you!
NUTMEG SPORTS LLC
38 Crystal Ridge Drive
Tolland, CT 06084
Phone-860-872-7373
Fax- 860-875-3014
Email- nmsprts@aol.com
FOR SALE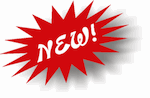 One of the most popular Colt configurations that Nutmeg offers, a 5 1/2" 45. Finished in spectacular bright nickel, this Colt boasts a very strong C+ coverage. The finish has been inked and baked to add visual clarity to the engraving. The grips are perfectly matched pre-ban African Ivory. This one has received a complete tuned action and displays a buttery smooth hammer draw and crisp trigger pull. A great gun for any Colt collection. Price $5200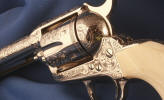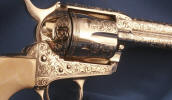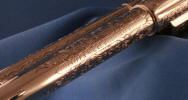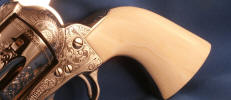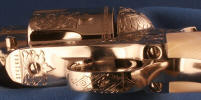 FOR SALE

Here is a beautiful 5 1/2" Colt SAA for sale. Serial number S74940A. Finished in our beautiful antique nickel. Beautifully engraved with great coverage. This gun has been treated to Nutmeg's signature action job, and features stunning genuine ivory grips. This gun won't last long. Price $5400 Sale $4900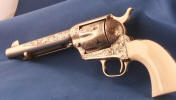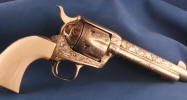 FOR SALE

Another new Nutmeg Colt. This one, serial number S47743A is a 45 4 3/4" with great coverage. It's brand new in the box with a custom tuned buttery smooth action job. Bright nickel with ink and baked finish. Beautifully matched ivory with antique pewter medallions. A hard gun to beat. Check out the pictures.
Price $5300 On Sale $4800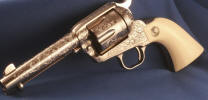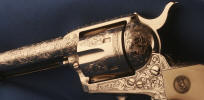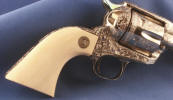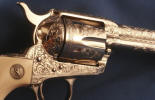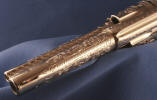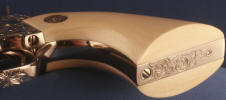 FOR SALE

This is one of the best new guns we have shown lately. It is for sale and can be yours. Engraved by Denise Thirion a former Belgium Browning engraver, her work is prominently displayed around the world. Her reputation is international fame of the highest regard. Besides the reputation and talent of Ms. Thirion, the gun itself is nothing short of spectacular. To start with, this is a black powder style frame Colt. Absolutely the hardest modern frame configurations to find at any time. In today's market you just cannot find them. The caliber and barrel length are the most desirable, 45 and 4 3/4". The engraving is nearly a "D" coverage. She has engraved the hammer and front sight as well as the inside of the gate surface. The grips are one piece configured documented pre-ban ivory are aged and match perfectly. It's bright nickel with ink and bake topped off by a complete fire blue package makes this one very rare. Brand new and unfired in the original box, it can be the crown jewel of any collection. Serial number S37334A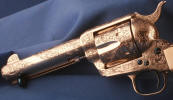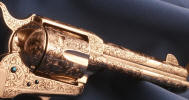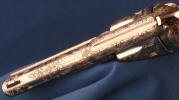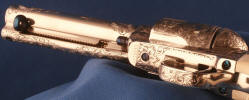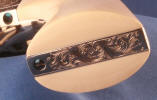 FOR SALE

Our latest gun for sale is a classic Colt 1911. It is a series 80 serial#CJ50045. This beautiful Colt is brand new in the box and has not been fired. The finish on this gun is a beautiful highly polished Stainless Steel. The genuine pre-ban African Ivory grips have been fitted with deep dish reproduction Colt medallions. The engraving is a classic American style and covers the sides of the slide, the receiver, the thumb safety, and the slide stop. We then did an ink and bake treatment on the engraving. A gun displaying this level of quality could fit nicely into just about any collection. The ability to still purchase a gun with ivory could become a thing of the past. Don't miss this opportunity.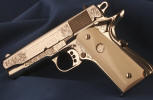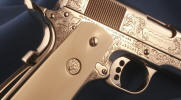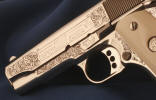 FOR SALE
Here we have another new Colt for sale. This one shows a very strong D- coverage. Nearly every square inch of this masterpieces has felt the artist's chisel. The front site and hammer are engraved. The panel screws have each been meticulously engraved. The trigger guard where the fingers wrap on the inside is engraved. The loading gate pocket, as well as the inside of the loading gate is engraved. These details place this gun is a category by itself. This Colt also has received a custom tuned action. The grips are Nutmeg's usual perfectly matched pre-ban African Ivory. A spectacular gun.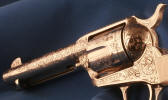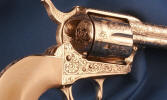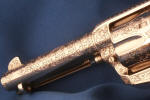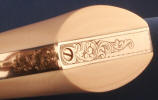 CLIENT'S GUN
We often receive a client's old gun for engraving. The Bisley shown below is one such gun. It was kind of a rat when it got here. It needed of a lot of our expertise to elevate it to what you see today. It required extensive polishing, new roll markings. The owner of the gun is a Native American and he came up with the plan. He decided on sterling silver plating with Native American pennies embedded into our carved ivory surface. He selected the pennies dated 1907 to match the vintage of the gun. Need we say more? Just view and enjoy the pictures, and contemplate sending your old gun to us.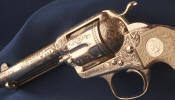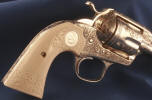 FOR SALE

Here is our latest gun for sale. Serial number S63312A. It is brand new in the box and beautifully engraved. We are offering it in the most popular SAA configuration....45 with 4 3/4" barrel. The ivory grips are wonderfully colored with matching grain from side to side. The coverage is very strong and the finish is antique nickel. Everyone is aware of what is happening with the cost and availability of the Colt SAA. You just can't find them, and if you do happen to stumble on one it is way overpriced or in an undesirable configuration. To find a gun like this one, and fairly priced would be a real strong challenge. We feel the price is fair considering this model gun is selling for about $2K. Add the ivory and you are approaching $3K. That's before any of the prep work, engraving, or special plating.
Price $4600.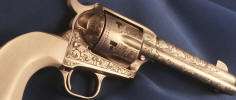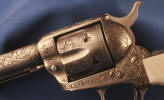 NUTMEG EXAMPLE
Check out this nice little Remington .41 Caliber over and under Derringer that a customer sent us. We transformed it from a small paperweight into a very attractive ivory handled engraved antique. We can do this to your Remington as well.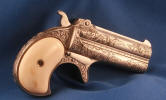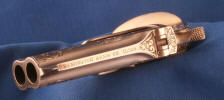 FOR SALE

Here is an opportunity for you to own one of the most iconic hand guns of all time from WW1 continuing thru today the Colt 1911 continues to be the choice of many. This particular one is beautifully engraved, and has been nickel plated. It is adorned with pre-ban genuine African Elephant ivory. The grips have been fitted with reproduction antique Colt medallions. These are the only known medallion where the Rampant Colt faces forward on both sides of the gun. As an added bonus we are including a Colt custom presentation case. This case is American Walnut with a solid lid, French fit interior with a piano hinge and is completely lockable. The serial number of the gun is 2864316.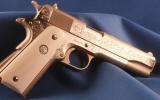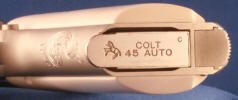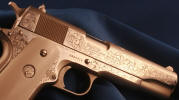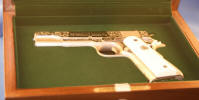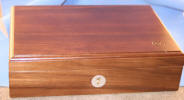 FOR SALE

For you collectors out there that want a great engraved Colt SAA but want to see a little bit more of the gun, this one might be just for you. It is the ever popular 4 3/4" in .45 serial number S67912A. It has a custom tuned action, antique nickel finish, with perfectly matched colorful pre-ban African ivory grips. The quality of this "C" turn of the century engraving is nothing short of masterful. Signed by the artist, it is brand new , unfired with all of the Nutmeg usual extras including the box, hang tags, instruction manual etc.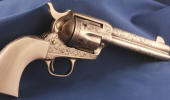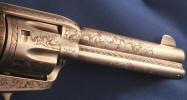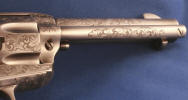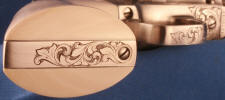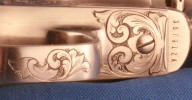 FOR SALE

This is a beautiful 2nd generation Colt third model Dragoon 7 1/2" 44 caliber. It has been engraved by Jerome Harper and the late Floyd Warren. It has been finished in color case and blue with 24K gold line work, and high relief inlays. Floyd Warren has applied some of his finest scroll to this Colt including flush 24K gold linework on the barrel, the wedge, and the cylinder. After the flush gold was applied, he continued working with the precious metal to create three very fine high relief solid 24K gold inlays. The left side of the barrel displays a flawless likeness of General Robert E. Lee. The opposite side of the barrel show another wonderful inlay of General Ulysses S. Grant. On the top radius of the barrel is yet another high relief 24K gold inlay of Samuel Colt. This masterpiece has been fitted with one piece African elephant ivory grips with high relief hand carving and checkering. A very historically significant collectable that could easily be the crowning jewel of the most discriminating Colt collection.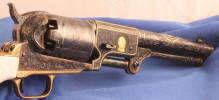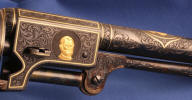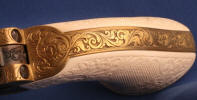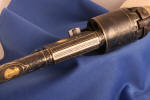 FOR SALE

The dedicated employees at Nutmeg Sports LLC have created yet another Colt masterpiece for someone's valuable collection. It is a Colt Single Action Army revolver, serial number S73652A. A 4 3/4" .45. It it brand new, unfired and in it's original Colt packaging. During our reassembly we had our Master gunsmith apply one or our trademark custom tuned action jobs. Now the cocking function operates as it were on smooth ball bearings but the lock up is as tight as a drum. The engraving pattern is one of our favorites. The scroll flows from the frame down onto the trigger guard and over to the backstrap ears giving the appearance of one seamless transition from part to part. The inside of the gate and the gate seat are engraved as is the hammer and front sight. Even the panel screws have not escaped the engravers chisel. We selected the antique nickel finish. It is our most durable and popular finish. The engraver was so proud of this one that he signed it three times. The grips are pre-ban genuine African elephant ivory showing very fine grain and character that matches from side to side. This Colt will fit into the finest of any collection.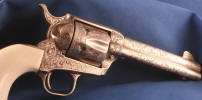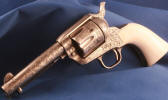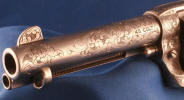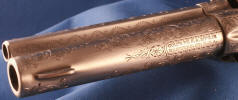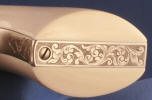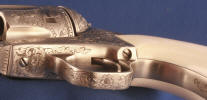 FOR SALE

Here it is...another smashing SAA from NUTMEG SPORTS, LLC. It's about as close to a "D" coverage as you can get. Even the panel screws, gate, and gate seat are engraved The only real open areas are the cylinder flutes. This one is a 45 long colt with a 5 1/2" barrel. Serial number S66842A is absolutely brand new in it's original blue box with white outsider and all the hang tags etc. as it came from Colt. Old style roll marks and metal work. Custom tuned buttery smooth action. Nickel plated with ink and bake finish. Signed by the engraver. Check out the one piece coffee colored pre-ban African elephant ivory. How can you not love this gun? AND, where can you find another one?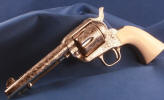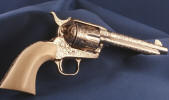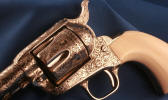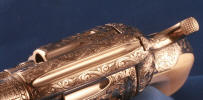 It's another brand new in the box Colt SAA. It is the classic .45 4 3/4" in bright nickel with an inked and baked finish. Serial number S67053A has been masterfully engraved with a "C++" level of coverage including the front sight, the hammer, inside the loading gate and even the gate pocket. The grips are pre-ban African elephant ivory in the one piece configuration. This colt would shine in the finest of collections.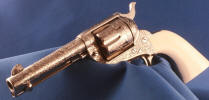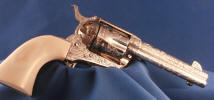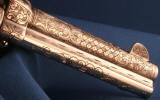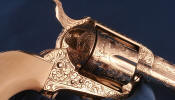 Yes! It is yet another Colt SAA .45 4 3/4". Brand new, unturned, unfired, original Colt blue box with white outsider, hang tags, paper work, and owner's manual. Engraved with a strong "C" coverage, serial number S67922A is a spectacular example of American craftsmanship. This Colt screams with turn of the last century details. We have applied all of the correct roll marks from that era including the two line address correct for a 4 3/4" gun and the 45 Colt caliber marking. The metal work is all early Colt from the beveled cylinder flutes to the chamfered toe and heel on the backstrap. Just takes a little more time but it's done right. The engraving is our typical flawless class in the "Cowboy" style engravings of the late 1800's and early 1900's. We have included a custom tuned action job that gives the gun a silky smooth action but it locks up like a Fort Knox vault. The one piece configured genuine pre ban African elephant grips show a mellow flowing ribbon of yellow grain. Lastly, the finish on this one is our exceedingly popular antique nickel. Check out Gun Broker and Guns America and Guns International. You won't find anything like it.
STOCK #107










Yes! It's another brand new unturned unfired Nutmeg Colt SAA. "C++" coverage including engraved front sight and hammer, the inside of the loading gate, and the frame gate pocket. Bright nickel finish, this one S73557A is a 5 1/2" .45. The lavish deep, bold scroll has been expertly applied. The finish is inked and baked and this Colt has been custom tuned with a buttery smooth action. The one piece configured ivory is rich, yellow and perfectly matched from side to side. A great gun for any collection. STOCK #105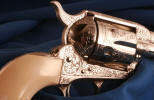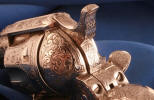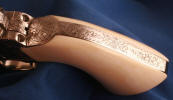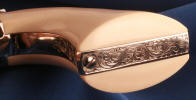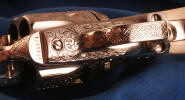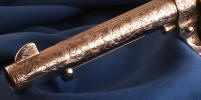 Our latest engraved offering is a beautiful Model 1903 Hammerless 32 Pocket Automatic. This particular gun ser#60634 was manufactured in 1907. It is in excellent condition with all roll markings and letterings nice and sharp. Records indicate that there were only 15 of this model Colt ever engraved. With the quality of engraving and ivory grips displayed that places this gun in a very rare category. We have fitted it with genuine pre-ban African elephant ivory grips. The engraving is a rendition of period coverage from that era, and the finish in antique nickel. A really nice gun to add to any Colt collection. The gun is in perfect working condition and includes an additional magazine that is unmarked on it's base. Priced at $3200. STOCK #104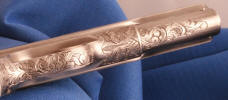 It's another brand new in the box unfired, unturned Colt SAA. Number S37791A is 45 Cal. 4 3/4" with what many dealers would call "D" coverage. There are a few tiny open areas, so we will refer to it as a "C++" very generous level of master coverage. All of the screws, the ejector rod head, the inside of the gate, the gate seat, front sight, and hammer have each felt the artist's chisel. There are subtle touches that you notice with repeated examinations. For example, take note of the way the scroll is transferred from the frame directly onto the sides of the trigger guard and the backstrap ears in a seamless flowing pattern. Three separate parts connected mechanically and artistically. In addition to the cosmetic beauty of this masterpiece, we have taken the time to perform one of our well known custom tuned action jobs. Now this Colt functions as wonderfully as it looks. The one piece pre-ban African Elephant ivory grips are nothing short of spectacular. The yellowish grain flows throughout each panel and matches from side to side. Guns of this quality are becoming nearly impossible to find. STOCK #103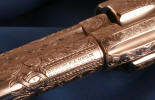 In a rare departure from our normal offerings we are proud and pleased to present a brand new Colt stainless steel Gold Cup serial number GCT43774. The Gold Cup for decades has been known as the finest shooting semi-automatic in the world and is the standard for competitive guns. Now we have taken this wonderful classic design and brought it to a new level of function form and beauty. We began by elevating the finish to an ultra bright stainless steel. We then engraved this Gold Cup with a spectacular 100% coverage of masterful American Scroll. We even engraved the stock screws. Lastly we fitted our gun with beautifully grained genuine pre-ban African Elephant ivory grips. Look around the internet. You won't find another Colt like this. STOCK #102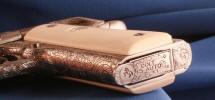 Introducing our newest Colt SAA for sale. As most folks in the industry know, our guns sell pretty quickly and we expect this one to be the same way. Serial #S62946A has everything going for it. It's the most popular caliber SAA in .45 long colt. It is the most desirable barrel length at 4 3/4". The most popular finish with ink and baked bright nickel. Hands down the most desirable grip material with pre-ban African elephant ivory displaying natural aged yellow patina. Masterful engraving in "C+" coverage signed by the artist. A custom tuned action job. Antique metal characteristics.....barrel markings, beveled cylinder, matching backstrap ears and hammer contour. Brand new, never fired, with original Colt box and literature.STOCK #101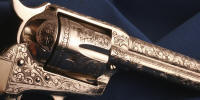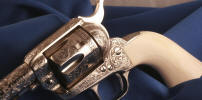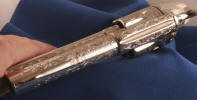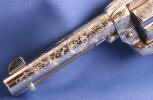 CHECK OUT THE NUTMEG CREATIONS PICTURED BELOW!!
EXAMPLE 1A
Here is one of our recent client creations. A Colt Bisley that has been dressed up with class. About 3/4 master quality engraving coverage, a complete fire blue package, antique nickel plating, ivory grips and antique pewter Colt medallions make this gun like no other Bisley you have seen or are likely to see again. If you have an old Colt hanging around that is looking tired and you want to give it a new look, we can help you.
EXAMPLE 1B
Here is a spectacular Colt SAA that a client sent us. It was a plain Jane when we got it but it ain't plain no more! This gun is sporting full blown "D" coverage scroll. ALL of the screws are engraved. The front sight, hammer, gate, gate seat, and even the ejector rod head has felt the engraver's chisel. Perfectly matched and fitted one piece pre-ban African elephant ivory with double Texas longhorn scrimshaw. We have to admit...this gun is not for everybody, but for anyone that wants this much coverage, this is the place to come.
EXAMPLE 1C
Our latest engraving project. It's another Bisley. There is not a lot to say. This beautiful Colt speaks for itself.
EXAMPLE 1D
Here is a Python that a client sent in for our work. It was a nice gun when it got here but look at it now! Everybody knows that Pythons have skyrocketed in the last couple of years. You can hardly find an engraved one. Why not call us about doing something to your Python?
EXAMPLE 1E
This Colt is celebrating it's100th birthday this year. Born in Hartford, CT in 1914 we are not sure what use it had over those last hundred years but it was looking pretty tired when it arrived at Nutmeg's doors. We breathed new life into it. We bet it looks better now than it did a century ago...what do you think?
EXAMPLE 1F
One of our clients had this nice 2 1/2" Diamondback. He sent it to us for a few simple changes. Custom ivory checkered grips with nickel medallions and a generous coverage of Nutmeg scroll. We can do this to any of your Colts.
EXAMPLE 1G
Nutmeg's latest creation. Our client sent this Colt in to us with some very specific requests in terms of engraving style and pattern. We worked with him and we think the results are astonishing.
EXAMPLE 1H
Check out this Colt Bisley. The before pictures kind of confirm that this was a boat anchor.
EXAMPLE 1I
A decorated law enforcement officer from Florida sent us his Python for engraving and ivory grips. We took his plain nickel gun and personalized it for him with the county seal as well as his badge number just behind the hammer.
EXAMPLE 1 J
Here are a few pictures of a three gun shipment that a client sent us. These three guns will be Christmas gifts to his wife Cookie, his daughter Lindsey and son Ryan. When we got them they were rough, but look at them now. It's not too late to get a Nutmeg surprise for under your tree.
EXAMPLE 1K
Here is a gun that was pretty beat when we got it. We stripped the old finish, and prepped it for engraving. After that we applied our extremely popular antique nickel finish and topped the whole thing off with a terrific pair of ivory grips complete with antique pewter coin medallions.
EXAMPLE 1L
Here are a couple of shots of a Lady Smith. Our client is celebrating an important wedding anniversary and he decided to give his bride this gun as a gift. This man sets an example for us all to follow. What a way to get a new gun into the collection, and how can she NOT like it!!??
EXAMPLE 1
This is an older Colt Diamondback. A very rare caliber, this .22 began life with a 4" barrel but it's owner lusted after an engraved version with a 2 1/2" barrel. Nutmeg Sports to the rescue. His old 4" is now a 2 1/2". It is engraved and is sporting checkered ivory grips with genuine Colt approved solid pure sterling silver rampant Colt medallions. The gun was nice in an earlier life but he thinks it is better now. What the client thinks is of utmost importance to us.
EXAMPLE 2
Here is a very early Colt SAA manufactured in 1875. It was a pretty rough gun needing a lot of work. Look at it now.
EXAMPLE 3
A client sent us this Python. We embellished this Colt with breathtaking master scroll coverage and 24 K gold accents including checkered ivory grips with antique deep dish gold Colt medallions.
EXAMPLE 4
Here we go again. Another different Colt sent in by a client for rescue. We think we did OK with this rescue. Spectacular 24K flush gold inlaid borders, 3/4's coverage with period scroll, grips that match the original pair except carved from solid pre-ban African elephant ivory. The person that sent it in plans to save it for his son.
EXAMPLE 5
The inspiration for this gun came from a different gun that was the work of Leonard Francolini. He engraved the original gun known simply as "THE VAMPIRE KILLER" that is currently housed in the NRA National Firearms Museum located in Fairfax, Virginia. That original gun is so popular that we created a very similar version for one of our clients. The client provided the gun and we took it from there. There are quite a few differences from the original work that was done by Francolini but we still think this is a unique gun with an equally unique theme. This gun was engraved by Wayne D'Angelo. We hope you enjoy looking at it.
EXAMPLE 6
Check out this little Colt 25 semi-auto. Our client loved it. So do we!
EXAMPLE 7
How about another Colt .380 Gov't Model. This gun is fast becoming one of the hottest Colt collectables out there. People are snapping them up and sending them to us for further enhancement like the one pictured below. You can't go wrong.
EXAMPLE 8
Check out this 1877 Colt Lightning. Our customer sent in this gun for us to perform our magic on. It was in pretty nice condition but now it screams beautiful!
EXAMPLE 9
Here is a 3rd generation Colt New Frontier Buntline. The customer was very pleased with the results and so are we.
EXAMPLE 10
How about this Colt .380 government model? The before pictures tell you that it was kind of a 'beater'. We took that beater and transformed it into a real special carry gun for the owner of the company named in the inset grip logo.
EXAMPLE 11
Check out this pair of detective special revolvers. These guns belonged to a client and he wanted his daughters to each have one. They both had the same initials so he had us engrave them and add the first letter of the last name in solid 24K flush gold with the year of the birth of each girl under the "M". The girls loved them and now they will always have a family heirloom from their Dad.

EXAMPLE 12
It almost seems like we are putting up a new gun every day! Every time we turn around a client is sending us his gun for a Nutmeg project. This particular Colt was custom ordered and it is now complete. A brand new Colt SAA with a 3 1/2" barrel and a bird's head grip frame. We added the Nutmeg touches like C++ engraving, ivory grips with an inked and baked bright nickel finish. Check it out!
EXAMPLE 13
Another brand new Colt .380. This time it is one of the newly re-introduced Mustang Pocketlites. We fully engraved the flats of the slide, the thumb safety, and the slide stop. We inked and baked it and added half checkered ivory. We like it.
EXAMPLE 14
Another Nutmeg transformation. This Colt was a garden variety Sheriffs model. It still is a Sheriffs model but it is now a rare Sheriffs model with 1 piece ivory grips and a bird's head configured backstrap! The original backstrap is with the gun so the owner can swap it around as he wishes....maybe the standard grip frame in his holster for church on Sunday, and the bird's head ivory configuration tucked into his belt as a belly gun at that Saturday night poker game. Either way, it was a great Colt that is now a better more valuable and rare Colt.
EXAMPLE 15
Our latest example is from a local client. This Colt .380 Mustang was picked up on 1-17-12. It was delivered today on 2-14-12. When we got this gun it had the standard black plastic grips and it was not engraved and was blue. It was a carry gun and had been carried for quite some time. The blue was worn off in spots and there were a lot of small dings and nicks. It is now exactly 4 weeks later. The blue finish is gone, it has been wonderfully engraved, and fitted with bark ivory grips. What a transformation!!! We are proud of it and our client is as well.
EXAMPLE 16
Just a month or so ago, a client sent us this .380 for carved ivory and engraving. There is not one engraveable surface that has not felt the artists chisel. Just spectacular...and check out the carved ivory grips with 24K gold leaf accents. Any crook should be proud to get shot by this gun!
EXAMPLE 17
This Colt was custom ordered from us by a repeat client. It has that old original carbona blue with color cased frame and hammer, aged looking matched ivory, and about a "C" level of engraving, and a custom tuned action. A real nice gun to add to any collection.
EXAMPLE 18
Here is another new Colt sent in by a client. It's a 2nd generation .45 7 1/2". This person is a Texas Lawman that just was tired of the look of his plain Jane Colt. He wanted to dress it up. We think he sent it to the right place. Check out the results.
EXAMPLE 19
What is happening here at Nutmeg is that more and more clients are realizing that they simply cannot find good engraved guns for sale on any of the big sites. So they are digging out the plain Colts that they own, and sending them to us or are ordering directly from us. On the web all you see is junk or guns that are overpriced by a mile and that do not have all the features you'd like to see. That is not the case here. You tell us what you want and we do it. Most people know it is a good investment in these tough times but the good stuff just isn't out there. Here are a few pictures of one gun that is part of a pair of Colt SAA's that a returning client asked for. He selected the pattern. He chose the antique nickel finish as well. The results speak for themselves.
EXAMPLE 20
Most of us know of John Taffin. He is a contributing editor to many gun publications and has been entertaining us by writing some of the finest articles regarding firearms for nearly the last fifty years. He has written almost two thousand such pieces and completed five books. Here at Nutmeg Sports, LLC we were very proud when Mr. Taffin sent us an old Bisley of his for us to perform our magic. Mechanically it was pretty sound but cosmetically it was what is commonly referred to as a 'beater' There was no finish left on the gun and it was heavily pitted with very light serial numbers and lettering. John gave us complete artistic license. Check out the results pictured below.
(click on images to see an enlarged view!
EXAMPLE 21
This pair of fine Colts began life as a Centennial Commemorative set offered by the Colt Custom Shop in 1973. Our client decided to convert them into something a little more special. These Colts presented the perfect canvas for the craftsman to apply some spectacular engraving. We finished the job with great ivory grips, a nickel finish on one and color case and blue on the other.
EXAMPLE 22
This is a first gen Colt SAA that really needed help. The numbers and rollmarks were not crisp so we had work to do there. We added the engraving, the ivory grips, and that fabulous sterling silver finish. We think you'll agree that it looks pretty nice.
EXAMPLE 23
Here is a brand new Colt SAA that a customer owned and wanted to dress up a little. With just 6 weeks lead time and not a lot of money, we added the carved ivory, the engraving, the antique nickel finish, and a whispery custom tuned action. We like it a lot. Hope you do too.
EXAMPLE 24
Here is a real nice little S&W revolver. Our customer just wanted to dress it up a bit. What better way to do it quickly and affordably than to have us put some high quality scroll and a pair of ivory grips on it. The value of what was just a plane Jane has increased dramatically for this gun's owner and his children. Check it out.
EXAMPLE 25
This new posting shows pictures of a little Colt .380 that a client ordered ivory for. He was so happy with the ivory that he sent the entire gun in for engraving. We are especially pleased with the results. The .380 Mustang, Pocketlite, and Government models are all increasing in value at a very fast rate. You rarely see any that are engraved. This is a great carry gun and a nice fancy addition to any collection
EXAMPLE 26
This new example was the brain child of our client. He had the idea of labeling a new pair of .357 magnum Colts with a numbered spade design in the shovel handle area. The resulting affect looks great. He is a serious competetive action shooter so in addition to the engraving, he had us do a super slick action job to each of these consecutively serialized guns. We think this pair is easy on the eyes too.
EXAMPLE 27
This "example" section is really gaining in popularity. More and more folks are seeing what their guns can become fairly quickly (a couple of months) and for not a lot of money ( well les than $3000 ). This pair of 38-40's had seen better days and the owner wanted to give them a facelift. After just two months, you are seeing the results. Book matched engraving, signed by the Colt contract engraver, antique finish, first generation metal work, book matched ivory, genuine antique Colt medallions. The owner was kind enough to give us permission to show them here for everyone to see. Your guns can have the same transformation Give us a call to discuss it.
EXAMPLE 28
This was a garden veriety Colt SAA. It's owner did not want to buy another gun, so he sent us this one. We changed it into something very special. We like it, he likes it and we hope you like it as well. As long as we are engraving a gun, we love converting a conventional backstrap into a birdshead.
EXAMPLE 29
This 1st generation Colt was kind of a beater. You can a look at the before pictures and see the transformation that has taken place. And at a very reasonable price.
EXAMPLE 30
This important Colt was the brainchild of one of our very sophisticated collector clients. We enjoy working hand in hand with our customers to help them create heirlooms of intrinsic value. This is a fine example of such a creation.
EXAMPLE 31
Our client sent in this Colt Combat Commander. A nice gun but not anything he'd want to wear on Sunday. Now it fits in with his finest garb.
EXAMPLE 32
Here is another brand new Colt from Nutmeg. This is not just another garden variety gun. It is a collaboration between the Michelangelo of Modern Engraving, Leonard Francolini and master engraver Wayne D'Angelo. A very elaborate creation and the crown jewel of even the finest collections.
EXAMPLE 33
Here is our latest rescue gun. We have included before and after pictures. This gun was actually a third gen. but in very rough shape. We ended up adding a barrel, a cylinder and ejector rod head, screws, and a hammer. Not to mention the engraving, ivory grips and antique nickel finish. We like it...what about you?
EXAMPLE 34
Here is a Wilson Arms .45 Cal semi-auto. The family of the client purchased the gun. Wilson shipped it to me. Communication took place between the client's family and me. Art work and photography was sent. You are looking at the results. The family was thrilled, the recipient was thrilled and we are very proud of the results.
EXAMPLE 35
This Colt came in just recently and we are very proud of the results. The grips are very special one piece ivory in a carved, checkered and scroll engraved pattern that is even visible at the bottom of the panels.
EXAMPLE 36
This old Colt was sent to us by the client with a picture of the engraving he wanted. The gun itself had no finish remaining. A few of the markings had to be sharpened up. The grips were old and beautifully aged but poorly fitted. We brought this Colt back and made it better than ever with our fabulous antique nickel. This wonderful Colt looks like it could just speak volumes about the cowboy days of old.
EXAMPLE 37
Silver & Ivory for a 2009 West Pointer

The production of this one-of-a-kind .45cal 4 3/4" Colt SAA and its custom case involved seven different craftsmen in five states to complete. A second .45ACP cylinder was numbered to the gun and engraved in a complimentary pattern. In addition to its sterling silver finish, this masterpiece is highlighted by custom-fitted one-piece pre-ban African Ivory Grips with a detailed relief carving of the 2009 West Point Class Crest on the left panel and it's owner's initials scrimshawed in the right panel.
EXAMPLE 38
This is an unusual gun. The client sent it to me quite some time ago for the grip carving and checkering. We did the work and then just recently he returned the gun for engraving and antiquing. It is one of the nicest guns we ever done.
EXAMPLE 39
Here is a unique 1911 semi-auto .45. This client had a favorite country and western song titled "The Devil's Right Hand" that he wanted incorporated into a gun. Owner of a rare coin shop, he wears his guns while at work, and he tells me this Colt will be no exception.
EXAMPLE 40
A very interesting Colt ordered exactly as you see it by a very discriminating client. Check out those grips! The serial number of this Colt is the client's first name followed by the numeral 1.
EXAMPLE 41
This is a brand new Colt that the customer ordered from us....specifically to his specifications.
EXAMPLE 42
This is a pair of series 80 1911's. They are exactly as the client ordered them....24K gold plated, with high relief carved ivory grips and consecutively serialized.
EXAMPLE 43
Check out this pair. Three months ago they were a tired drab looking pair of color cased and blue SAA's. The black powder style frames, ideal caliber and barrel length gave us the foundation on which to make this pair of Colts what you see now.
EXAMPLE 44
We just completed this project for a very satisfied client. He sent us his tired gun for a little face lift. This is the result. Spectacular "B" engraving, a custom tuned action, ivory grips like you dream about with antique Colt medallions, and a Colt that is every bit as new as the day it left the factory....only better!
EXAMPLE 45
This is our latest posting of a new Nutmeg pair. Our client sent us his pair of Colt .38 specials. They were color case and blue plain Janes. Nice guns...composite grips...but nothing to brag about. We transformed them into what you see here, and for not a lot of money. Silky smooth action jobs, ivory grips, classy engraving, antique nickel finish! Now these guns are something very special to him...his son...his grandsons. We can do this to your guns.
EXAMPLE 46
A recently retired law enforcement officer sent us his service revolver. Most collectors realize the significance of law enforcement guns. Imagine the importance of memorializing a gun that had seen service through an entire career. What better way to honor a Dad or any loved one while at the same time creating an extremely valuable heirloom.
EXAMPLE 47
This old Colt was sent in by a customer and he would agree it was a "RAT". It was refinished to death...no markings...all worn down...no grips. A real boat anchor. Then we performed our magic. Now check it out!
EXAMPLE 48
A client sent in this Colt SAA. It was a very plain used SAA with hard rubber grips. Check it out now. The cost complete for what you see? About $2700.
EXAMPLE 49
This gun was a brand new Colt semi- auto but in the white. We improved its appearance a little.
(click on images to see an enlarged view!)